Helo's Hallmark Series makes owning a personal oasis at home easier than ever. Easy to assemble, yet loaded with upgrades usually found only in designer-type saunas, Hallmark puts the opportunity for a daily chance to relax and recharge within reach of everyone.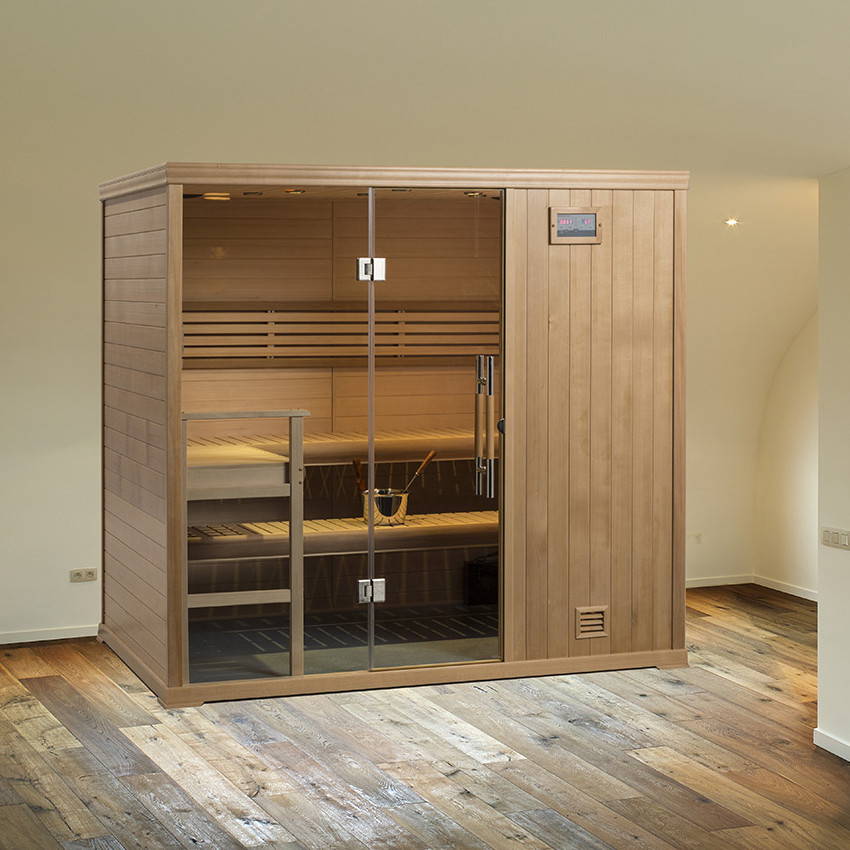 Hallmark is attractive in more ways than one. To the eye, top quality clear Canadian Hemlock inside and out reflects golden light in a warm, comforting glow. The exterior is protected with a biodegradable finish for a luxurious look and ease in maintenance. Interior puck lighting, color therapy lighting system and integrated sound system complete the aura of luxury.
Hallmark saunas come complete with a built-in floor with vinyl surface, which makes cleaning and maintenance a breeze. The sauna is powered by stainless steel Helo Viki wet/dry sauna heater, featuring the dependable climate-creating efficiency you'd expect of a Helo. Your comfort is easy to adjust using the intuitive SaunaLogic digital controls.

Choose from 5 sizes (4x4, 4x6, 5x5 corner, 5x7 and 6x6 corner). And if you like the idea of being able to take your sauna with you, consider the HM44. This simple 6 panel version is even easier to assemble and take down, yet still boasts all Hallmark features.

All Hallmark Saunas Include:

Clear Canadian Hemlock interior and exterior

Exterior finished with biodegradable wood treatment for a luxurious look and for ease of maintenance

Bluetooth sound system (styles may vary)

Interior low voltage lighting & color therapy lighting system

Built-in floor with a vinyl surface

Simple hook & pin panel design; easily installs in less than an hour

Stainless steel Viki wet/dry sauna heater

SaunaLogic Digital controls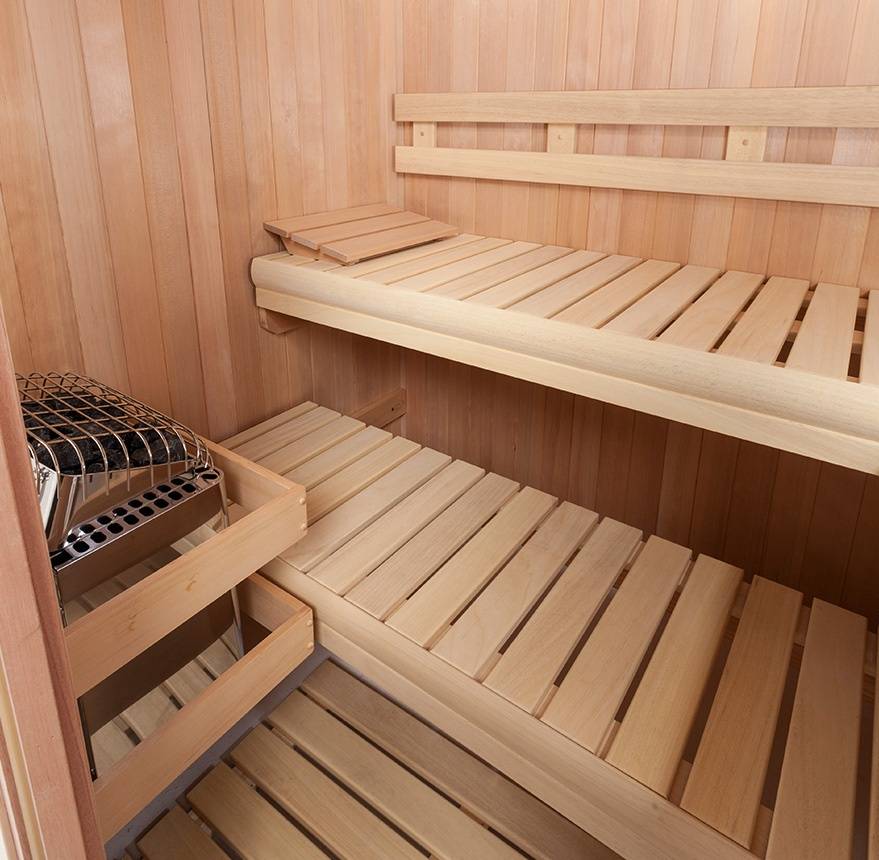 More about Panel-Built Kits
Hallmark Series are beautiful, of the highest quality and are modular and free-standing. Installation is a simple 2-hour task for two or a fun project in which the entire family can participate.
Panel-built saunas arrive complete and ready to assemble. Each panel is fully insulated and hand-crafted into Scandinavian designs.
No additional materials are needed. Simply install on almost any hard, waterproof surface such as concrete or tile. Every panel is numbered to facilitate easy assembly.
Permanent yet portable. By the very nature of its design, the Hallmark Series can be disassembled and transported if you move or if you decide to change its location in your home.

Get 15% Off
Sauna Accessories
with any Sauna Room and/or Heater purchase.
Our 'saunawarming' gift to you!