{"id":2361093259342,"title":"J. Marttiini Knives - Martef Big Game Green","handle":"j-marttiini-knives-martef-big-game-green","description":"\u003cmeta charset=\"utf-8\"\u003e\n\u003cp\u003e\u003cb\u003eMartef-coated hunting knives are excellent tools for hunters\u003c\/b\u003e.\u003cbr\u003eThe dirt and moisture repelling Martef coating reduces friction to almost zero whilst protecting the blade against corrosion. Due to the coating the blade moves extremely smoothly through cut meat or fish, and cleaning the blade after use is extremely easy.\u003c\/p\u003e\n\u003cp\u003e\u003cb\u003eBig Game Martef\u003c\/b\u003e\u003cspan\u003e \u003c\/span\u003eis an impressive knife for dealing with the carcasses of large animals. The handle of the knife is larger than usual, so it fits perfectly in a bigger hand and offers an improved grip. This knife also features the safe textured rubber handle and the finger guard. Sharpen regularly. \u003c\/p\u003e\n\u003cp\u003e\u003cspan\u003eFinland is known for producing utilitarian yet decorative \u003c\/span\u003e\u003cem\u003ePuukkos which means\u003c\/em\u003e\u003cspan\u003e \u003c\/span\u003e\u003cem\u003eKnives\u003c\/em\u003e\u003cspan\u003e in English. Puukkos have been made in Finland by the indigenous Sami people since the introduction of steel to their homeland in Northern Finland. Since 1928, J Marttiini has crafted a wide variety of popular Puukko style finnish knives.\u003c\/span\u003e\u003c\/p\u003e\n\u003cul\u003e\n\u003cli\u003e3-Year Manufacturer's Guarantee regarding manufacturing and material defects. Warranty of Martef coating is 1 year. \u003c\/li\u003e\n\u003cli\u003eLength of \u003cstrong\u003e\u003c\/strong\u003eBlade 13 cm \/ 5.12\"\u003c\/li\u003e\n\u003cli\u003eLength of Handle: 13 cm \/ 5.12\"\u003c\/li\u003e\n\u003cli\u003e\u003cspan\u003eBlade Material: stainless steel, martef coating\u003c\/span\u003e\u003c\/li\u003e\n\u003cli\u003e\u003cspan\u003eBlade Hardness: 53-54 Rockwell units (HRC)\u003c\/span\u003e\u003c\/li\u003e\n\u003cli\u003e\u003cspan\u003eHandle Material: rubber, green\u003c\/span\u003e\u003c\/li\u003e\n\u003cli\u003e\u003cspan\u003eSheath Material: leather\u003c\/span\u003e\u003c\/li\u003e\n\u003cli\u003eDesigned in Finland, Made in Finland\u003c\/li\u003e\n\u003cli\u003e\u003cspan\u003eVendor Number: 390010T\u003c\/span\u003e\u003c\/li\u003e\n\u003c\/ul\u003e\n\u003cp\u003e\u003cstrong\u003eAdditional details about the materials used\u003c\/strong\u003e\u003c\/p\u003e\n\u003cp\u003eThe stainless steel used by Marttiini is easy to maintain as a blade material. A stainless steel blade remains sharp for long. Chromium makes up 13% of the steel mixture and the hardness of the mixture is 53-54 Rockwell units (HRC). A diamond sharpener is recommended for sharpening chromium steel.\u003c\/p\u003e\n\u003cp\u003e\u003cspan\u003eRubber mixture is extremely well suited as the material for knife handles. An ergonomically shaped rubber handle can be washed in a washing machine, is easy to maintain, hygienic and safe. A rubber handle feels pleasantly warm to touch even under outdoor conditions, for instance in freezing or wet weather. The roughened part of the handle and the finger guard guarantee a safe and firm grip for knives of the Condor-series.\u003c\/span\u003e\u003c\/p\u003e\n\u003cp\u003eThe leather sheaths of Marttiini knives are made with either vegetable or chrome tanned oxhide. The leather hides are purchased from both Europe and South America. The sheaths are made with both dyed and natural colored leather.\u003c\/p\u003e\n\u003cp\u003eThe knife sheaths are still made mostly by hand. Each sheath has to be exactly the right size and shape, so it forms a fitting pair with the knife. A section of the leather is cut with a model iron, and the seams are attached with glue before sewing. Most sheaths have a plastic piece inside that supports the sheath and protects the blade.\u003c\/p\u003e\n\u003cp\u003eThe printing on the sheath is made on either the cut section or the finished sheath. Rivets, and in some cases a bronze collar, strengthen and adorn the sheath.\u003c\/p\u003e","published_at":"2019-04-02T20:20:33-04:00","created_at":"2018-12-13T10:21:17-05:00","vendor":"Marttiini","type":"Outdoor Knife","tags":["Brand_J. Marttiini","Finnish Souvenirs","Marttiini Outdoor Knives","Outdoor Gifts","Souvenirs"],"price":7599,"price_min":7599,"price_max":7599,"available":false,"price_varies":false,"compare_at_price":9499,"compare_at_price_min":9499,"compare_at_price_max":9499,"compare_at_price_varies":false,"variants":[{"id":21169667211342,"title":"Default Title","option1":"Default Title","option2":null,"option3":null,"sku":"95926","requires_shipping":true,"taxable":true,"featured_image":null,"available":false,"name":"J. Marttiini Knives - Martef Big Game Green","public_title":null,"options":["Default Title"],"price":7599,"weight":0,"compare_at_price":9499,"inventory_quantity":0,"inventory_management":"shopify","inventory_policy":"deny","barcode":""}],"images":["\/\/cdn.shopify.com\/s\/files\/1\/0643\/4389\/products\/marttiini-big-game-martef-knife-green.jpg?v=1544714667"],"featured_image":"\/\/cdn.shopify.com\/s\/files\/1\/0643\/4389\/products\/marttiini-big-game-martef-knife-green.jpg?v=1544714667","options":["Title"],"content":"\u003cmeta charset=\"utf-8\"\u003e\n\u003cp\u003e\u003cb\u003eMartef-coated hunting knives are excellent tools for hunters\u003c\/b\u003e.\u003cbr\u003eThe dirt and moisture repelling Martef coating reduces friction to almost zero whilst protecting the blade against corrosion. Due to the coating the blade moves extremely smoothly through cut meat or fish, and cleaning the blade after use is extremely easy.\u003c\/p\u003e\n\u003cp\u003e\u003cb\u003eBig Game Martef\u003c\/b\u003e\u003cspan\u003e \u003c\/span\u003eis an impressive knife for dealing with the carcasses of large animals. The handle of the knife is larger than usual, so it fits perfectly in a bigger hand and offers an improved grip. This knife also features the safe textured rubber handle and the finger guard. Sharpen regularly. \u003c\/p\u003e\n\u003cp\u003e\u003cspan\u003eFinland is known for producing utilitarian yet decorative \u003c\/span\u003e\u003cem\u003ePuukkos which means\u003c\/em\u003e\u003cspan\u003e \u003c\/span\u003e\u003cem\u003eKnives\u003c\/em\u003e\u003cspan\u003e in English. Puukkos have been made in Finland by the indigenous Sami people since the introduction of steel to their homeland in Northern Finland. Since 1928, J Marttiini has crafted a wide variety of popular Puukko style finnish knives.\u003c\/span\u003e\u003c\/p\u003e\n\u003cul\u003e\n\u003cli\u003e3-Year Manufacturer's Guarantee regarding manufacturing and material defects. Warranty of Martef coating is 1 year. \u003c\/li\u003e\n\u003cli\u003eLength of \u003cstrong\u003e\u003c\/strong\u003eBlade 13 cm \/ 5.12\"\u003c\/li\u003e\n\u003cli\u003eLength of Handle: 13 cm \/ 5.12\"\u003c\/li\u003e\n\u003cli\u003e\u003cspan\u003eBlade Material: stainless steel, martef coating\u003c\/span\u003e\u003c\/li\u003e\n\u003cli\u003e\u003cspan\u003eBlade Hardness: 53-54 Rockwell units (HRC)\u003c\/span\u003e\u003c\/li\u003e\n\u003cli\u003e\u003cspan\u003eHandle Material: rubber, green\u003c\/span\u003e\u003c\/li\u003e\n\u003cli\u003e\u003cspan\u003eSheath Material: leather\u003c\/span\u003e\u003c\/li\u003e\n\u003cli\u003eDesigned in Finland, Made in Finland\u003c\/li\u003e\n\u003cli\u003e\u003cspan\u003eVendor Number: 390010T\u003c\/span\u003e\u003c\/li\u003e\n\u003c\/ul\u003e\n\u003cp\u003e\u003cstrong\u003eAdditional details about the materials used\u003c\/strong\u003e\u003c\/p\u003e\n\u003cp\u003eThe stainless steel used by Marttiini is easy to maintain as a blade material. A stainless steel blade remains sharp for long. Chromium makes up 13% of the steel mixture and the hardness of the mixture is 53-54 Rockwell units (HRC). A diamond sharpener is recommended for sharpening chromium steel.\u003c\/p\u003e\n\u003cp\u003e\u003cspan\u003eRubber mixture is extremely well suited as the material for knife handles. An ergonomically shaped rubber handle can be washed in a washing machine, is easy to maintain, hygienic and safe. A rubber handle feels pleasantly warm to touch even under outdoor conditions, for instance in freezing or wet weather. The roughened part of the handle and the finger guard guarantee a safe and firm grip for knives of the Condor-series.\u003c\/span\u003e\u003c\/p\u003e\n\u003cp\u003eThe leather sheaths of Marttiini knives are made with either vegetable or chrome tanned oxhide. The leather hides are purchased from both Europe and South America. The sheaths are made with both dyed and natural colored leather.\u003c\/p\u003e\n\u003cp\u003eThe knife sheaths are still made mostly by hand. Each sheath has to be exactly the right size and shape, so it forms a fitting pair with the knife. A section of the leather is cut with a model iron, and the seams are attached with glue before sewing. Most sheaths have a plastic piece inside that supports the sheath and protects the blade.\u003c\/p\u003e\n\u003cp\u003eThe printing on the sheath is made on either the cut section or the finished sheath. Rivets, and in some cases a bronze collar, strengthen and adorn the sheath.\u003c\/p\u003e"}
J. Marttiini Knives - Martef Big Game Green
Martef-coated hunting knives are excellent tools for hunters.
The dirt and moisture repelling Martef coating reduces friction to almost zero whilst protecting the blade against corrosion. Due to the coating the blade moves extremely smoothly through cut meat or fish, and cleaning the blade after use is extremely easy.
Big Game Martef is an impressive knife for dealing with the carcasses of large animals. The handle of the knife is larger than usual, so it fits perfectly in a bigger hand and offers an improved grip. This knife also features the safe textured rubber handle and the finger guard. Sharpen regularly. 
Finland is known for producing utilitarian yet decorative Puukkos which means Knives in English. Puukkos have been made in Finland by the indigenous Sami people since the introduction of steel to their homeland in Northern Finland. Since 1928, J Marttiini has crafted a wide variety of popular Puukko style finnish knives.
3-Year Manufacturer's Guarantee regarding manufacturing and material defects. Warranty of Martef coating is 1 year. 
Length of Blade 13 cm / 5.12"
Length of Handle: 13 cm / 5.12"

Blade Material: stainless steel, martef coating

Blade Hardness: 53-54 Rockwell units (HRC)

Handle Material: rubber, green

Sheath Material: leather

Designed in Finland, Made in Finland

Vendor Number: 390010T
Additional details about the materials used
The stainless steel used by Marttiini is easy to maintain as a blade material. A stainless steel blade remains sharp for long. Chromium makes up 13% of the steel mixture and the hardness of the mixture is 53-54 Rockwell units (HRC). A diamond sharpener is recommended for sharpening chromium steel.
Rubber mixture is extremely well suited as the material for knife handles. An ergonomically shaped rubber handle can be washed in a washing machine, is easy to maintain, hygienic and safe. A rubber handle feels pleasantly warm to touch even under outdoor conditions, for instance in freezing or wet weather. The roughened part of the handle and the finger guard guarantee a safe and firm grip for knives of the Condor-series.
The leather sheaths of Marttiini knives are made with either vegetable or chrome tanned oxhide. The leather hides are purchased from both Europe and South America. The sheaths are made with both dyed and natural colored leather.
The knife sheaths are still made mostly by hand. Each sheath has to be exactly the right size and shape, so it forms a fitting pair with the knife. A section of the leather is cut with a model iron, and the seams are attached with glue before sewing. Most sheaths have a plastic piece inside that supports the sheath and protects the blade.
The printing on the sheath is made on either the cut section or the finished sheath. Rivets, and in some cases a bronze collar, strengthen and adorn the sheath.
Last day to place an order for Christmas delivery is December 18th, 2018. Order must be shipped within the continuous 48 United States. Only applies to in-stock items. If you have additional questions feel free to contact us at (906) 226-2567 or orders@touchoffinland.com
Need to send your order to a friend living elsewhere? Simply put their shipping address in at checkout and we will automatically remove all pricing information from the box! You even have a chance to add your own personal message card!
Allow 24-48 hours for us to prepare your order for shipping. All orders ship from Marquette, Michigan. Sales tax is charged on orders shipped within the state of Michigan. If an item is out of stock we will promptly notify you and give the option of changing or cancelling your order. Your credit card is not charged until the order ships. We reserve the right to cancel any order due to pricing errors. Once shipped, you will receive a Shipment Confirmation email with a tracking number.
FREE SHIPPING—EVERY. SINGLE. DAY. on orders $75+.* 
*Our customers enjoy free shipping on all orders $75+ every single day. This offer does not apply to Sauna Heaters and Sauna Room Kits. Additional fees apply for express or overnight shipping, where available. International orders, including Canada, are not eligible for the offer. Free shipping applies to orders shipping to the contiguous US, Alaska and Hawaii.
Contiguous United States 
- Orders under $75 - $7.95 Flat Rate Fee 
- Orders over $75 - Free Shipping 
International Shipping 
- You will be charged a base rate of $25 at checkout. We will contact you before processing your order if shipping is more than $25. Customer assumes responsibility for all customs and duties fees if applicable in your country.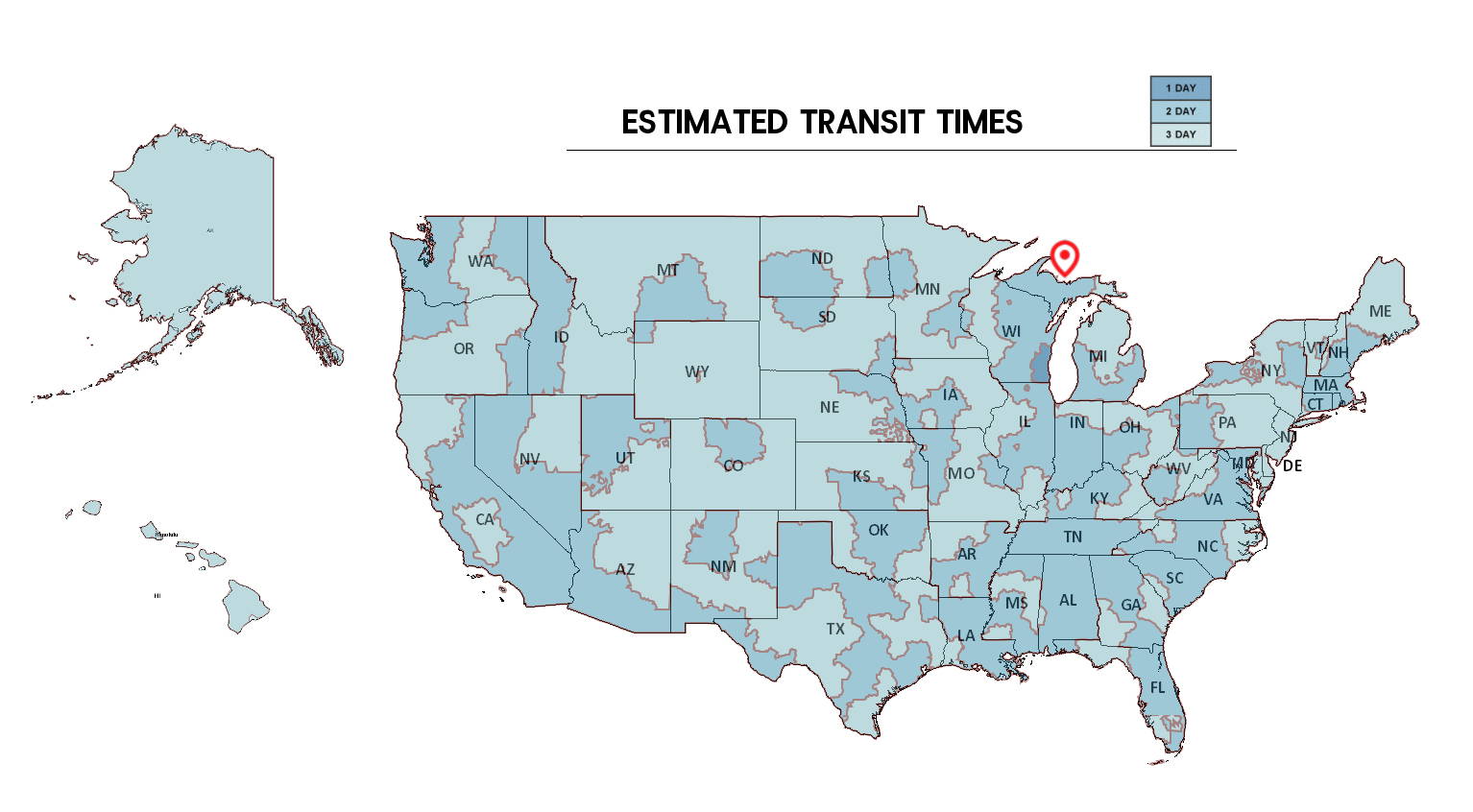 Touch of Finland Returns
Returns: 

Simply ship the item(s) back to our warehouse (address below) with a brief note requesting a refund. Please note the following guidelines:

1. Return items must be unused and in the original packaging. Refunds can only be issued for items in resalable condition. 
2. All furniture and fabric sales are final.
3. Return items within 180 days.
4. Pack fragile returns carefully as refunds can only be issued for items arriving undamaged. We recommend insuring your return shipment.
5. For returns, a full refund, minus shipping charges, will be issued.
When returning merchandise purchased from touchoffinland.com, shipping costs paid on the order are not refunded.
Damaged or Defective Items: 

Your order is guaranteed to arrive in perfect condition. Please contact us online or by phone (906-226-2567) immediately if your purchase arrives damaged or if any item is defective. We will offer either a replacement or refund.

Send returns/exchanges to:
Touch of Finland
ATTN: Returns/Exchanges
2853 US 41 West
Marquette, MI 49855
Shop with confidence
1000's of Happy Customers.

 

We have been a family business operating since 1982 within the United States. During that time we have served over 200,000 satisfied customers from all over the world.
We Stock 100% of the Items on Our Site.

 

Many of our competitors simply take your order and then have the vendor or 3rd party send the items to you. We stock everything we sell, so we can be sure to give you the best service from the time you order to the time you get your package.
Satisfaction Guarantee.

 

Your order is guaranteed to arrive in perfect condition, but if for any reason you aren't completely satisfied, please

 contact us.

 We will make it right.
Fast Delivery of your Order.

 

We stock almost everything we sell, so we'll pack and ship your order directly from our warehouse with no delays. Most shipments arrive within 2-5 business days of ordering. For more information on shipping visit our shipping page.