{"id":2354585665614,"title":"Helsinki Woolen Socks, Turquoise Blue","handle":"helsinki-woolen-socks-turquoise-blue","description":"\u003cdiv class=\"et_pb_row et_pb_row_1\"\u003e\n\u003cdiv class=\"et_pb_column et_pb_column_2_3 et_pb_column_1 et_pb_css_mix_blend_mode_passthrough\"\u003e\n\u003cdiv class=\"et_pb_module et_pb_text et_pb_text_1 et_pb_bg_layout_light et_pb_text_align_left\"\u003e\n\u003cdiv class=\"et_pb_text_inner\"\u003e\n\u003cdiv\u003e\n\u003cspan\u003e\u003cspan\u003eWoolen socks made in Finland to keep your feet warm all year round! \u003c\/span\u003e\u003cspan\u003eThe villa is a natural and breathable material. \u003c\/span\u003e\u003cspan\u003e70% of the material is pure wool sheep's wool and 30% is a polyamide blend added for durability. The socks\u003c\/span\u003e\u003cspan\u003e tip and heel are reinforced to create a sock for better wear. \u003c\/span\u003e\u003c\/span\u003eMuch of the fabrication of woolen fabrics is hand crafted in Helsinki.\u003c\/div\u003e\n\u003cbr\u003e\n\u003cp\u003e\u003cspan\u003eThe yarn blend is spun from the wool of three sheep breeds in order to make the perfect woolen-like qualities for a sock; warmth, breathability and a pleasant soft feel on the bare feet. Every pair of socks created by the Helsinki Woolen Socks Factory\u003c\/span\u003e can absorb up to 30-40% of their weight without feeling wet due to the hygroscopic animal fiber they are made from.\u003c\/p\u003e\n\u003cp\u003e\u003cspan\u003eUnlike other fibers, wool is odor resistant, so you wool socks will smell better than socks made from other fibers, meaning you can wear them multiple times before you start to get odd looks from people. \u003cem\u003eCheck out the full care instructions below.\u003c\/em\u003e\u003c\/span\u003e\u003c\/p\u003e\n\u003cp\u003e\u003cstrong\u003eCare Instructions\u003c\/strong\u003e\u003c\/p\u003e\n\u003cp\u003eBy letting your wool socks air overnight, there's a high chance you can wear them again the next day and they will continue to feel fresh and comfortable, and won't smell.\u003c\/p\u003e\n\u003cp\u003eBut, when it does come time to wash your wool socks, treat them the same as\u003cspan\u003e washing most wool clothes.\u003c\/span\u003e\u003c\/p\u003e\n\u003cdiv class=\"et_pb_row et_pb_row_1\"\u003e\n\u003cdiv class=\"et_pb_column et_pb_column_4_4 et_pb_column_1 et_pb_css_mix_blend_mode_passthrough et-last-child\"\u003e\n\u003cdiv class=\"et_pb_module et_pb_text et_pb_text_1 et_pb_bg_layout_light et_pb_text_align_left\"\u003e\n\u003cdiv class=\"et_pb_text_inner\"\u003e\n\u003cp\u003e\u003cspan\u003eThe 30-degree (Fahrenheit) \u003cstrong\u003emachine wash\u003c\/strong\u003e and short spin fit perfectly to our woolen towels.\u003cspan\u003e \u003c\/span\u003eWe recommend using a ph neutral detergent (pH 7).\u003c\/span\u003e\u003c\/p\u003e\n\u003c\/div\u003e\n\u003c\/div\u003e\n\u003c\/div\u003e\n\u003c\/div\u003e\n\u003cdiv class=\"et_pb_row et_pb_row_2\"\u003e\n\u003cdiv class=\"et_pb_column et_pb_column_1_2 et_pb_column_2 et_pb_css_mix_blend_mode_passthrough\"\u003e\n\u003cdiv class=\"et_pb_module et_pb_text et_pb_text_2 et_pb_bg_layout_light et_pb_text_align_left\"\u003e\n\u003cdiv class=\"et_pb_text_inner\"\u003e\n\u003cp\u003e\u003cspan\u003eIn \u003cstrong\u003emanual washing\u003c\/strong\u003e, washing and flushing water should be at a temperature of less than 104 degrees (Fahrenheit).\u003cspan\u003e \u003c\/span\u003eLarge fluctuations in hot and cold water and strong abrasion can cause the wool to fall.\u003c\/span\u003e\u003c\/p\u003e\n\u003cp\u003e\u003cspan\u003eWool yarns are good to form wet and dry at low temperatures.\u003cspan\u003e \u003c\/span\u003eWe do not recommend drying woolen socks in excess of 158 degrees (Fahrenheit), for example, with hot water on a radiator, in a sauna or too close to a fire.\u003cspan\u003e \u003c\/span\u003eThanks to its breathability, the wool dries quite heavily without high heat.\u003c\/span\u003e\u003c\/p\u003e\n\u003cp\u003e\u003cspan\u003eFinally, it should be mentioned that in active use the wool yarn gradually stretches, and the wig looses its original shape.\u003cspan\u003e \u003c\/span\u003eRegular washing at a suitable temperature will restore the shape of the woolen jacket, and even slightly damp woolen wigs can easily be customized to their feet by simply putting them in their feet as a bit of washcloth.\u003c\/span\u003e\u003c\/p\u003e\n\u003cul\u003e\n\u003cli\u003eBrand: Helsinki Woolen Sock Company\u003c\/li\u003e\n\u003cli\u003eMaterial: 70% wool and 30% polyamide blend\u003c\/li\u003e\n\u003cli\u003eCountry: Designed in Finland, Made in Finland\u003c\/li\u003e\n\u003c\/ul\u003e\n\u003c\/div\u003e\n\u003c\/div\u003e\n\u003c\/div\u003e\n\u003c\/div\u003e\n\u003c\/div\u003e\n\u003c\/div\u003e\n\u003c\/div\u003e\n\u003c\/div\u003e","published_at":"2018-12-02T10:09:06-05:00","created_at":"2018-12-02T11:22:29-05:00","vendor":"Helsinki Woolen Socks","type":"Socks","tags":["Finnish Clothing","Type_Sock"],"price":2499,"price_min":2499,"price_max":2499,"available":true,"price_varies":false,"compare_at_price":null,"compare_at_price_min":0,"compare_at_price_max":0,"compare_at_price_varies":false,"variants":[{"id":21151497420878,"title":"Women's 8-10.5 \/\/ Men's 7-9","option1":"Women's 8-10.5 \/\/ Men's 7-9","option2":null,"option3":null,"sku":"97584","requires_shipping":true,"taxable":true,"featured_image":null,"available":true,"name":"Helsinki Woolen Socks, Turquoise Blue - Women's 8-10.5 \/\/ Men's 7-9","public_title":"Women's 8-10.5 \/\/ Men's 7-9","options":["Women's 8-10.5 \/\/ Men's 7-9"],"price":2499,"weight":0,"compare_at_price":null,"inventory_quantity":4,"inventory_management":"shopify","inventory_policy":"deny","barcode":""}],"images":["\/\/cdn2.shopify.com\/s\/files\/1\/0643\/4389\/products\/finnish-wool-socks-turquoise-blue.jpg?v=1543767850","\/\/cdn2.shopify.com\/s\/files\/1\/0643\/4389\/products\/finnish-wool-socks-turquoise-blue-1.jpg?v=1543767850"],"featured_image":"\/\/cdn2.shopify.com\/s\/files\/1\/0643\/4389\/products\/finnish-wool-socks-turquoise-blue.jpg?v=1543767850","options":["Size"],"content":"\u003cdiv class=\"et_pb_row et_pb_row_1\"\u003e\n\u003cdiv class=\"et_pb_column et_pb_column_2_3 et_pb_column_1 et_pb_css_mix_blend_mode_passthrough\"\u003e\n\u003cdiv class=\"et_pb_module et_pb_text et_pb_text_1 et_pb_bg_layout_light et_pb_text_align_left\"\u003e\n\u003cdiv class=\"et_pb_text_inner\"\u003e\n\u003cdiv\u003e\n\u003cspan\u003e\u003cspan\u003eWoolen socks made in Finland to keep your feet warm all year round! \u003c\/span\u003e\u003cspan\u003eThe villa is a natural and breathable material. \u003c\/span\u003e\u003cspan\u003e70% of the material is pure wool sheep's wool and 30% is a polyamide blend added for durability. The socks\u003c\/span\u003e\u003cspan\u003e tip and heel are reinforced to create a sock for better wear. \u003c\/span\u003e\u003c\/span\u003eMuch of the fabrication of woolen fabrics is hand crafted in Helsinki.\u003c\/div\u003e\n\u003cbr\u003e\n\u003cp\u003e\u003cspan\u003eThe yarn blend is spun from the wool of three sheep breeds in order to make the perfect woolen-like qualities for a sock; warmth, breathability and a pleasant soft feel on the bare feet. Every pair of socks created by the Helsinki Woolen Socks Factory\u003c\/span\u003e can absorb up to 30-40% of their weight without feeling wet due to the hygroscopic animal fiber they are made from.\u003c\/p\u003e\n\u003cp\u003e\u003cspan\u003eUnlike other fibers, wool is odor resistant, so you wool socks will smell better than socks made from other fibers, meaning you can wear them multiple times before you start to get odd looks from people. \u003cem\u003eCheck out the full care instructions below.\u003c\/em\u003e\u003c\/span\u003e\u003c\/p\u003e\n\u003cp\u003e\u003cstrong\u003eCare Instructions\u003c\/strong\u003e\u003c\/p\u003e\n\u003cp\u003eBy letting your wool socks air overnight, there's a high chance you can wear them again the next day and they will continue to feel fresh and comfortable, and won't smell.\u003c\/p\u003e\n\u003cp\u003eBut, when it does come time to wash your wool socks, treat them the same as\u003cspan\u003e washing most wool clothes.\u003c\/span\u003e\u003c\/p\u003e\n\u003cdiv class=\"et_pb_row et_pb_row_1\"\u003e\n\u003cdiv class=\"et_pb_column et_pb_column_4_4 et_pb_column_1 et_pb_css_mix_blend_mode_passthrough et-last-child\"\u003e\n\u003cdiv class=\"et_pb_module et_pb_text et_pb_text_1 et_pb_bg_layout_light et_pb_text_align_left\"\u003e\n\u003cdiv class=\"et_pb_text_inner\"\u003e\n\u003cp\u003e\u003cspan\u003eThe 30-degree (Fahrenheit) \u003cstrong\u003emachine wash\u003c\/strong\u003e and short spin fit perfectly to our woolen towels.\u003cspan\u003e \u003c\/span\u003eWe recommend using a ph neutral detergent (pH 7).\u003c\/span\u003e\u003c\/p\u003e\n\u003c\/div\u003e\n\u003c\/div\u003e\n\u003c\/div\u003e\n\u003c\/div\u003e\n\u003cdiv class=\"et_pb_row et_pb_row_2\"\u003e\n\u003cdiv class=\"et_pb_column et_pb_column_1_2 et_pb_column_2 et_pb_css_mix_blend_mode_passthrough\"\u003e\n\u003cdiv class=\"et_pb_module et_pb_text et_pb_text_2 et_pb_bg_layout_light et_pb_text_align_left\"\u003e\n\u003cdiv class=\"et_pb_text_inner\"\u003e\n\u003cp\u003e\u003cspan\u003eIn \u003cstrong\u003emanual washing\u003c\/strong\u003e, washing and flushing water should be at a temperature of less than 104 degrees (Fahrenheit).\u003cspan\u003e \u003c\/span\u003eLarge fluctuations in hot and cold water and strong abrasion can cause the wool to fall.\u003c\/span\u003e\u003c\/p\u003e\n\u003cp\u003e\u003cspan\u003eWool yarns are good to form wet and dry at low temperatures.\u003cspan\u003e \u003c\/span\u003eWe do not recommend drying woolen socks in excess of 158 degrees (Fahrenheit), for example, with hot water on a radiator, in a sauna or too close to a fire.\u003cspan\u003e \u003c\/span\u003eThanks to its breathability, the wool dries quite heavily without high heat.\u003c\/span\u003e\u003c\/p\u003e\n\u003cp\u003e\u003cspan\u003eFinally, it should be mentioned that in active use the wool yarn gradually stretches, and the wig looses its original shape.\u003cspan\u003e \u003c\/span\u003eRegular washing at a suitable temperature will restore the shape of the woolen jacket, and even slightly damp woolen wigs can easily be customized to their feet by simply putting them in their feet as a bit of washcloth.\u003c\/span\u003e\u003c\/p\u003e\n\u003cul\u003e\n\u003cli\u003eBrand: Helsinki Woolen Sock Company\u003c\/li\u003e\n\u003cli\u003eMaterial: 70% wool and 30% polyamide blend\u003c\/li\u003e\n\u003cli\u003eCountry: Designed in Finland, Made in Finland\u003c\/li\u003e\n\u003c\/ul\u003e\n\u003c\/div\u003e\n\u003c\/div\u003e\n\u003c\/div\u003e\n\u003c\/div\u003e\n\u003c\/div\u003e\n\u003c\/div\u003e\n\u003c\/div\u003e\n\u003c\/div\u003e"}
Helsinki Woolen Socks, Turquoise Blue
Woolen socks made in Finland to keep your feet warm all year round! 
The villa is a natural and breathable material. 
70% of the material is pure wool sheep's wool and 30% is a polyamide blend added for durability. The socks
 tip and heel are reinforced to create a sock for better wear. 
Much of the fabrication of woolen fabrics is hand crafted in Helsinki.
The yarn blend is spun from the wool of three sheep breeds in order to make the perfect woolen-like qualities for a sock; warmth, breathability and a pleasant soft feel on the bare feet. Every pair of socks created by the Helsinki Woolen Socks Factory can absorb up to 30-40% of their weight without feeling wet due to the hygroscopic animal fiber they are made from.
Unlike other fibers, wool is odor resistant, so you wool socks will smell better than socks made from other fibers, meaning you can wear them multiple times before you start to get odd looks from people. Check out the full care instructions below.
Care Instructions
By letting your wool socks air overnight, there's a high chance you can wear them again the next day and they will continue to feel fresh and comfortable, and won't smell.
But, when it does come time to wash your wool socks, treat them the same as washing most wool clothes.
The 30-degree (Fahrenheit) machine wash and short spin fit perfectly to our woolen towels. We recommend using a ph neutral detergent (pH 7).
In manual washing, washing and flushing water should be at a temperature of less than 104 degrees (Fahrenheit). Large fluctuations in hot and cold water and strong abrasion can cause the wool to fall.
Wool yarns are good to form wet and dry at low temperatures. We do not recommend drying woolen socks in excess of 158 degrees (Fahrenheit), for example, with hot water on a radiator, in a sauna or too close to a fire. Thanks to its breathability, the wool dries quite heavily without high heat.
Finally, it should be mentioned that in active use the wool yarn gradually stretches, and the wig looses its original shape. Regular washing at a suitable temperature will restore the shape of the woolen jacket, and even slightly damp woolen wigs can easily be customized to their feet by simply putting them in their feet as a bit of washcloth.
Brand: Helsinki Woolen Sock Company
Material: 70% wool and 30% polyamide blend
Country: Designed in Finland, Made in Finland
Last day to place an order for Christmas delivery is December 18th, 2018. Order must be shipped within the continuous 48 United States. Only applies to in-stock items. If you have additional questions feel free to contact us at (906) 226-2567 or orders@touchoffinland.com
Need to send your order to a friend living elsewhere? Simply put their shipping address in at checkout and we will automatically remove all pricing information from the box! You even have a chance to add your own personal message card!
Allow 24-48 hours for us to prepare your order for shipping. All orders ship from Marquette, Michigan. Sales tax is charged on orders shipped within the state of Michigan. If an item is out of stock we will promptly notify you and give the option of changing or cancelling your order. Your credit card is not charged until the order ships. We reserve the right to cancel any order due to pricing errors. Once shipped, you will receive a Shipment Confirmation email with a tracking number.
FREE SHIPPING—EVERY. SINGLE. DAY. on orders $75+.* 
*Our customers enjoy free shipping on all orders $75+ every single day. This offer does not apply to Sauna Heaters and Sauna Room Kits. Additional fees apply for express or overnight shipping, where available. International orders, including Canada, are not eligible for the offer. Free shipping applies to orders shipping to the contiguous US, Alaska and Hawaii.
Contiguous United States 
- Orders under $75 - $7.95 Flat Rate Fee 
- Orders over $75 - Free Shipping 
International Shipping 
- You will be charged a base rate of $25 at checkout. We will contact you before processing your order if shipping is more than $25. Customer assumes responsibility for all customs and duties fees if applicable in your country.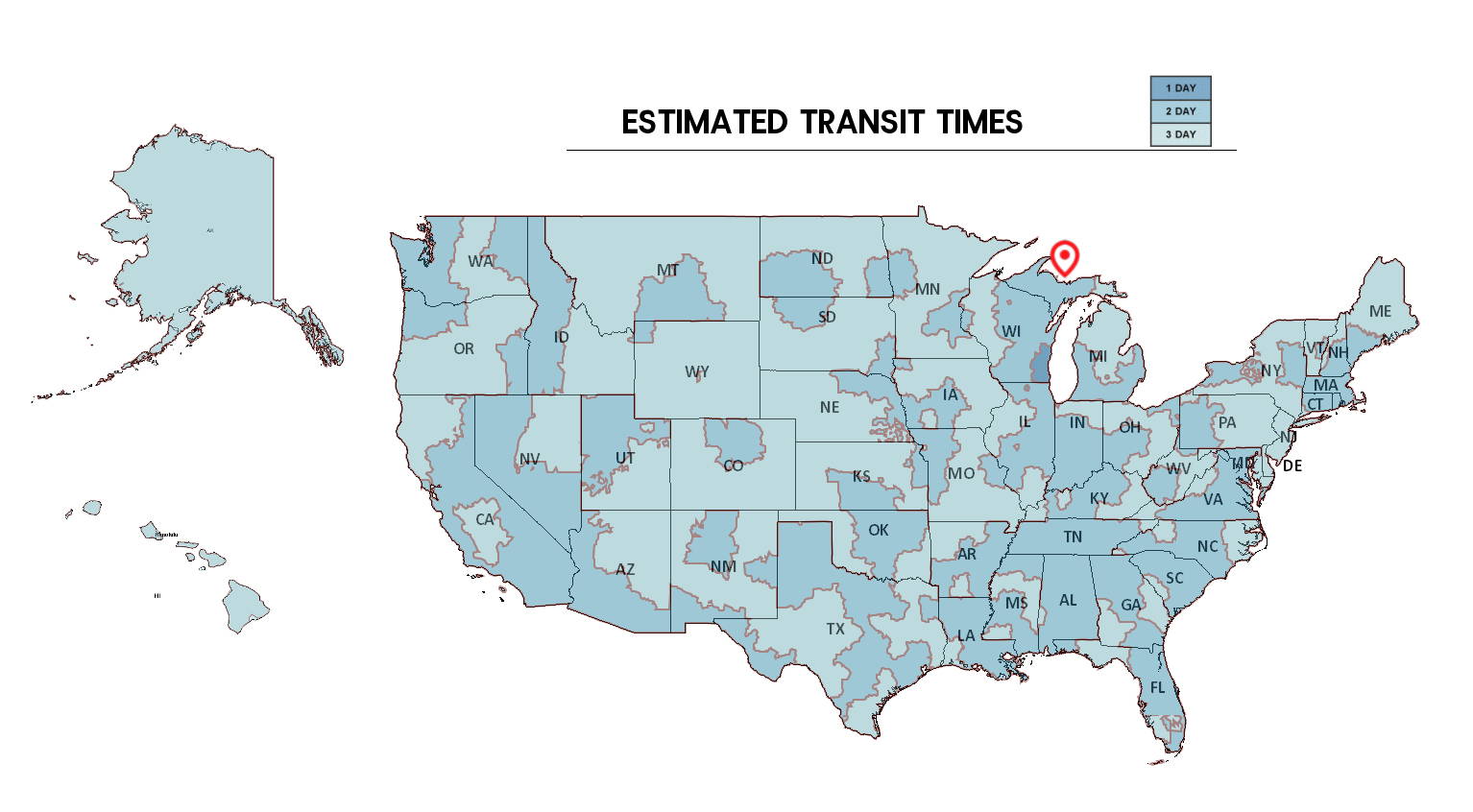 Touch of Finland Returns
Returns: 

Simply ship the item(s) back to our warehouse (address below) with a brief note requesting a refund. Please note the following guidelines:

1. Return items must be unused and in the original packaging. Refunds can only be issued for items in resalable condition. 
2. All furniture and fabric sales are final.
3. Return items within 180 days.
4. Pack fragile returns carefully as refunds can only be issued for items arriving undamaged. We recommend insuring your return shipment.
5. For returns, a full refund, minus shipping charges, will be issued.
When returning merchandise purchased from touchoffinland.com, shipping costs paid on the order are not refunded.
Damaged or Defective Items: 

Your order is guaranteed to arrive in perfect condition. Please contact us online or by phone (906-226-2567) immediately if your purchase arrives damaged or if any item is defective. We will offer either a replacement or refund.

Send returns/exchanges to:
Touch of Finland
ATTN: Returns/Exchanges
2853 US 41 West
Marquette, MI 49855
Shop with confidence
1000's of Happy Customers.

 

We have been a family business operating since 1982 within the United States. During that time we have served over 200,000 satisfied customers from all over the world.
We Stock 100% of the Items on Our Site.

 

Many of our competitors simply take your order and then have the vendor or 3rd party send the items to you. We stock everything we sell, so we can be sure to give you the best service from the time you order to the time you get your package.
Satisfaction Guarantee.

 

Your order is guaranteed to arrive in perfect condition, but if for any reason you aren't completely satisfied, please

 contact us.

 We will make it right.
Fast Delivery of your Order.

 

We stock almost everything we sell, so we'll pack and ship your order directly from our warehouse with no delays. Most shipments arrive within 2-5 business days of ordering. For more information on shipping visit our shipping page.