{"id":10560505414,"title":"Sauna Arctica Smoothing Sauna Creme Pure Finnish Pine Tar \u0026 Honey","handle":"sauna-arctica-smoothing-sauna-creme-pure-finnish-pine-tar-and-honey","description":"\u003cdiv\u003e\n\u003cdiv\u003e\n\u003cdiv\u003e\n\u003cdiv\u003e\n\u003cul class=\"feature-list\"\u003e\n\u003cli\u003eCleansing \u0026amp; vitalizing\u003c\/li\u003e\n\u003cli\u003eRelieves skin irritation\u003c\/li\u003e\n\u003cli\u003ePromotes muscle recovery\u003c\/li\u003e\n\u003cli\u003eStimulates metabolism\u003c\/li\u003e\n\u003cli\u003eLong lasting, a small amount is enough\u003c\/li\u003e\n\u003c\/ul\u003e\n\u003c\/div\u003e\n\u003c\/div\u003e\n\u003c\/div\u003e\n\u003c\/div\u003e\n\u003cdiv\u003e\n\u003cp\u003eTar is traditionally used in the sauna, due to its fragrance and its care effect. It nourishes the skin effectively - in scientific research it has proven to have an effect against psoriasis was detected.\u003cbr\u003eThe Sauna Cream with pine tar and honey cleanses, revitalizes and promotes the balance of the skin. Birch tar and meadowsweet  relieve itching, skin irritation and muscle and joint pain. In addition, meadowsweet stimulates the metabolism and accelerates the sweating process. Along with honey, tar tar and meadowsweet promote muscle recovery after exercise. The Sauna Cream is also suitable for the care of the scalp. Pine tar creates a unique, sensitive and mystical atmosphere in the sauna thanks to its smoky scent.\u003c\/p\u003e\n\u003cp\u003eMany of the natural raw materials have antioxidant and regenerating properties. They contain a unique combination of vitamins, fruit acids,minerals and trace elements. Honey is the basis of all products because it does not clog pores, but lets the skin breathe. It is a true miracle of nature - what other material could dampen and clean the skin at the same time? It has a balancing effect on the skin pores and also possesses a relaxing property. \u003c\/p\u003e\n\u003cp\u003eThe honey creams in the Sauna Arctica line of products protect the skin from the heat, yet allows it to breathe. They nourish the skin and are versatile: moisturizing, cleansing, balancing effect and promote the skin's natural resilience. In the warm sauna enhances the beneficial effects of the creams - a holistic, relaxing experience for both the body and for the soul. After the pampering experience with the honey treatment, you feel recovered.\u003c\/p\u003e\n\u003cp\u003e\u003cstrong\u003eApplication:\u003c\/strong\u003e Allow the sauna creams to absorb and penetrate the skin - after the honey treatment, you feel relaxed and your skin is silky smooth! Then rinse the skin with clean water. Store the cream at room temperature.\u003c\/p\u003e\n\u003cp\u003e\u003cstrong\u003eTip:\u003c\/strong\u003e In the development of raw materials and product materials importance is always placed on compatibility of the products, so they are also suitable for sensitive skin. The Sauna Creams are also suitable to use on the face. These products are excellent for both in and out of the sauna - use as  a cleansing lotion for the face or a shampoo and hair treatment. Use the sauna honey creams in the bath or as treatments for hair and scalp.\u003c\/p\u003e\n\u003cp\u003e\u003cstrong\u003eIngredients:\u003c\/strong\u003e Mel, Aqua, Glycerine, Filipendula Ulmaria, Rape Seed Oil, Xanthan Gum, Pinus Sylvestris Tar, Dehydroacetic Acid, Cetearyoyl\/Cetearyl Glucoside.\u003c\/p\u003e\n\u003cul\u003e\n\u003cli\u003eBrand: Mellis\u003c\/li\u003e\n\u003cli\u003eCountry: Designed in Finland, Made in Finland\u003c\/li\u003e\n\u003cli\u003eSize: 125 ml\u003c\/li\u003e\n\u003c\/ul\u003e\n\u003c\/div\u003e\n\u003cul\u003e\u003c\/ul\u003e","published_at":"2018-07-24T18:48:37-04:00","created_at":"2017-05-05T16:41:36-04:00","vendor":"Mellis","type":"Sauna Creme","tags":["bathbody","Brand_Mellis Sauna","lotion","madeinfinland","sauna","sauna accessories","Skincare","soap","Type_Sauna Cream"],"price":1199,"price_min":1199,"price_max":1199,"available":true,"price_varies":false,"compare_at_price":null,"compare_at_price_min":0,"compare_at_price_max":0,"compare_at_price_varies":false,"variants":[{"id":42615279622,"title":"Default Title","option1":"Default Title","option2":null,"option3":null,"sku":"93001","requires_shipping":true,"taxable":true,"featured_image":null,"available":true,"name":"Sauna Arctica Smoothing Sauna Creme Pure Finnish Pine Tar \u0026 Honey","public_title":null,"options":["Default Title"],"price":1199,"weight":0,"compare_at_price":null,"inventory_quantity":6,"inventory_management":"shopify","inventory_policy":"deny","barcode":""}],"images":["\/\/cdn.shopify.com\/s\/files\/1\/0643\/4389\/products\/sauna-arctica-smoothing-sauna-creme-pure-finnish-pine-tar-honey-815620.jpg?v=1564366463","\/\/cdn.shopify.com\/s\/files\/1\/0643\/4389\/products\/sauna-arctica-smoothing-sauna-creme-pure-finnish-pine-tar-honey-619938.jpg?v=1564366463","\/\/cdn.shopify.com\/s\/files\/1\/0643\/4389\/products\/sauna-arctica-smoothing-sauna-creme-pure-finnish-pine-tar-honey-984743.jpg?v=1564366463"],"featured_image":"\/\/cdn.shopify.com\/s\/files\/1\/0643\/4389\/products\/sauna-arctica-smoothing-sauna-creme-pure-finnish-pine-tar-honey-815620.jpg?v=1564366463","options":["Title"],"media":[{"alt":"Sauna Arctica Smoothing Sauna Creme Pure Finnish Pine Tar \u0026 Honey Sauna Creme Mellis","id":1315722854478,"position":1,"preview_image":{"aspect_ratio":1.0,"height":500,"width":500,"src":"https:\/\/cdn.shopify.com\/s\/files\/1\/0643\/4389\/products\/sauna-arctica-smoothing-sauna-creme-pure-finnish-pine-tar-honey-815620.jpg?v=1569184901"},"aspect_ratio":1.0,"height":500,"media_type":"image","src":"https:\/\/cdn.shopify.com\/s\/files\/1\/0643\/4389\/products\/sauna-arctica-smoothing-sauna-creme-pure-finnish-pine-tar-honey-815620.jpg?v=1569184901","width":500},{"alt":"Sauna Arctica Smoothing Sauna Creme Pure Finnish Pine Tar \u0026 Honey Sauna Creme Mellis","id":1315980836942,"position":2,"preview_image":{"aspect_ratio":1.0,"height":1312,"width":1312,"src":"https:\/\/cdn.shopify.com\/s\/files\/1\/0643\/4389\/products\/sauna-arctica-smoothing-sauna-creme-pure-finnish-pine-tar-honey-619938.jpg?v=1569184956"},"aspect_ratio":1.0,"height":1312,"media_type":"image","src":"https:\/\/cdn.shopify.com\/s\/files\/1\/0643\/4389\/products\/sauna-arctica-smoothing-sauna-creme-pure-finnish-pine-tar-honey-619938.jpg?v=1569184956","width":1312},{"alt":"Sauna Arctica Smoothing Sauna Creme Pure Finnish Pine Tar \u0026 Honey Sauna Creme Mellis","id":1315720691790,"position":3,"preview_image":{"aspect_ratio":1.0,"height":640,"width":640,"src":"https:\/\/cdn.shopify.com\/s\/files\/1\/0643\/4389\/products\/sauna-arctica-smoothing-sauna-creme-pure-finnish-pine-tar-honey-984743.jpg?v=1569184900"},"aspect_ratio":1.0,"height":640,"media_type":"image","src":"https:\/\/cdn.shopify.com\/s\/files\/1\/0643\/4389\/products\/sauna-arctica-smoothing-sauna-creme-pure-finnish-pine-tar-honey-984743.jpg?v=1569184900","width":640}],"content":"\u003cdiv\u003e\n\u003cdiv\u003e\n\u003cdiv\u003e\n\u003cdiv\u003e\n\u003cul class=\"feature-list\"\u003e\n\u003cli\u003eCleansing \u0026amp; vitalizing\u003c\/li\u003e\n\u003cli\u003eRelieves skin irritation\u003c\/li\u003e\n\u003cli\u003ePromotes muscle recovery\u003c\/li\u003e\n\u003cli\u003eStimulates metabolism\u003c\/li\u003e\n\u003cli\u003eLong lasting, a small amount is enough\u003c\/li\u003e\n\u003c\/ul\u003e\n\u003c\/div\u003e\n\u003c\/div\u003e\n\u003c\/div\u003e\n\u003c\/div\u003e\n\u003cdiv\u003e\n\u003cp\u003eTar is traditionally used in the sauna, due to its fragrance and its care effect. It nourishes the skin effectively - in scientific research it has proven to have an effect against psoriasis was detected.\u003cbr\u003eThe Sauna Cream with pine tar and honey cleanses, revitalizes and promotes the balance of the skin. Birch tar and meadowsweet  relieve itching, skin irritation and muscle and joint pain. In addition, meadowsweet stimulates the metabolism and accelerates the sweating process. Along with honey, tar tar and meadowsweet promote muscle recovery after exercise. The Sauna Cream is also suitable for the care of the scalp. Pine tar creates a unique, sensitive and mystical atmosphere in the sauna thanks to its smoky scent.\u003c\/p\u003e\n\u003cp\u003eMany of the natural raw materials have antioxidant and regenerating properties. They contain a unique combination of vitamins, fruit acids,minerals and trace elements. Honey is the basis of all products because it does not clog pores, but lets the skin breathe. It is a true miracle of nature - what other material could dampen and clean the skin at the same time? It has a balancing effect on the skin pores and also possesses a relaxing property. \u003c\/p\u003e\n\u003cp\u003eThe honey creams in the Sauna Arctica line of products protect the skin from the heat, yet allows it to breathe. They nourish the skin and are versatile: moisturizing, cleansing, balancing effect and promote the skin's natural resilience. In the warm sauna enhances the beneficial effects of the creams - a holistic, relaxing experience for both the body and for the soul. After the pampering experience with the honey treatment, you feel recovered.\u003c\/p\u003e\n\u003cp\u003e\u003cstrong\u003eApplication:\u003c\/strong\u003e Allow the sauna creams to absorb and penetrate the skin - after the honey treatment, you feel relaxed and your skin is silky smooth! Then rinse the skin with clean water. Store the cream at room temperature.\u003c\/p\u003e\n\u003cp\u003e\u003cstrong\u003eTip:\u003c\/strong\u003e In the development of raw materials and product materials importance is always placed on compatibility of the products, so they are also suitable for sensitive skin. The Sauna Creams are also suitable to use on the face. These products are excellent for both in and out of the sauna - use as  a cleansing lotion for the face or a shampoo and hair treatment. Use the sauna honey creams in the bath or as treatments for hair and scalp.\u003c\/p\u003e\n\u003cp\u003e\u003cstrong\u003eIngredients:\u003c\/strong\u003e Mel, Aqua, Glycerine, Filipendula Ulmaria, Rape Seed Oil, Xanthan Gum, Pinus Sylvestris Tar, Dehydroacetic Acid, Cetearyoyl\/Cetearyl Glucoside.\u003c\/p\u003e\n\u003cul\u003e\n\u003cli\u003eBrand: Mellis\u003c\/li\u003e\n\u003cli\u003eCountry: Designed in Finland, Made in Finland\u003c\/li\u003e\n\u003cli\u003eSize: 125 ml\u003c\/li\u003e\n\u003c\/ul\u003e\n\u003c\/div\u003e\n\u003cul\u003e\u003c\/ul\u003e"}
Sauna Arctica Smoothing Sauna Creme Pure Finnish Pine Tar & Honey
Cleansing & vitalizing
Relieves skin irritation
Promotes muscle recovery
Stimulates metabolism
Long lasting, a small amount is enough
Tar is traditionally used in the sauna, due to its fragrance and its care effect. It nourishes the skin effectively - in scientific research it has proven to have an effect against psoriasis was detected.
The Sauna Cream with pine tar and honey cleanses, revitalizes and promotes the balance of the skin. Birch tar and meadowsweet  relieve itching, skin irritation and muscle and joint pain. In addition, meadowsweet stimulates the metabolism and accelerates the sweating process. Along with honey, tar tar and meadowsweet promote muscle recovery after exercise. The Sauna Cream is also suitable for the care of the scalp. Pine tar creates a unique, sensitive and mystical atmosphere in the sauna thanks to its smoky scent.
Many of the natural raw materials have antioxidant and regenerating properties. They contain a unique combination of vitamins, fruit acids,minerals and trace elements. Honey is the basis of all products because it does not clog pores, but lets the skin breathe. It is a true miracle of nature - what other material could dampen and clean the skin at the same time? It has a balancing effect on the skin pores and also possesses a relaxing property. 
The honey creams in the Sauna Arctica line of products protect the skin from the heat, yet allows it to breathe. They nourish the skin and are versatile: moisturizing, cleansing, balancing effect and promote the skin's natural resilience. In the warm sauna enhances the beneficial effects of the creams - a holistic, relaxing experience for both the body and for the soul. After the pampering experience with the honey treatment, you feel recovered.
Application: Allow the sauna creams to absorb and penetrate the skin - after the honey treatment, you feel relaxed and your skin is silky smooth! Then rinse the skin with clean water. Store the cream at room temperature.
Tip: In the development of raw materials and product materials importance is always placed on compatibility of the products, so they are also suitable for sensitive skin. The Sauna Creams are also suitable to use on the face. These products are excellent for both in and out of the sauna - use as  a cleansing lotion for the face or a shampoo and hair treatment. Use the sauna honey creams in the bath or as treatments for hair and scalp.
Ingredients: Mel, Aqua, Glycerine, Filipendula Ulmaria, Rape Seed Oil, Xanthan Gum, Pinus Sylvestris Tar, Dehydroacetic Acid, Cetearyoyl/Cetearyl Glucoside.
Brand: Mellis
Country: Designed in Finland, Made in Finland
Size: 125 ml
Allow 24-48 hours for us to prepare your order for shipping. All orders ship from Marquette, Michigan. Sales tax is charged on orders shipped within the state of Michigan. If an item is out of stock we will promptly notify you and give the option of changing or cancelling your order. Your credit card is not charged until the order ships. We reserve the right to cancel any order due to pricing errors. Once shipped, you will receive a Shipment Confirmation email with a tracking number.
FREE SHIPPING—EVERY. SINGLE. DAY. on orders $75+.* 
*Our customers enjoy free shipping on all orders $75+ every single day. This offer does not apply to Sauna Heaters and Sauna Room Kits. Additional fees apply for express or overnight shipping, where available. International orders, including Canada, are not eligible for the offer. Free shipping applies to orders shipping to the contiguous US 48 States only.
Contiguous United States 
- Orders under $75 - $5.95 Flat Rate Fee 
- Orders over $75 - Free Shipping 
International Shipping 
- You will be charged a base rate of $25 at checkout. We will contact you before processing your order if shipping is more than $25. Customer assumes responsibility for all customs and duties fees if applicable in your country.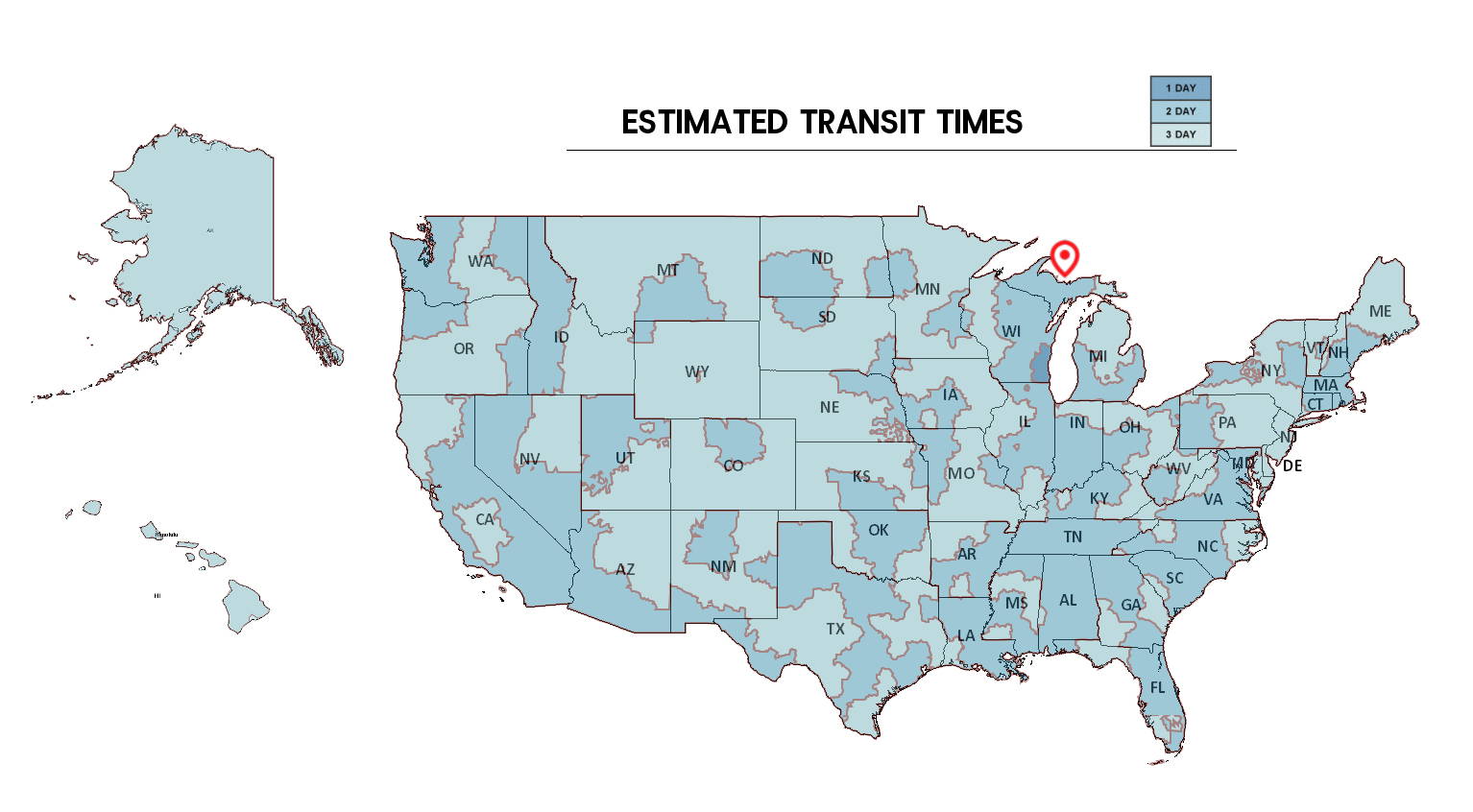 Returns, Exchanges & Damaged Orders
Our 14-Day No Questions Asked Returns:

1. You must initiate a return within 30 days of receiving your order by email or call. Once your return is authorized, we will send you an email with our return information and correct return address. Returns shipped to addresses other than the address we provide you with, will not be eligible for a refund. 
2. We do not reimburse for return shipping; this cost is the responsibility of the customer.
3. Eligible returns will be refunded, minus the outbound shipping cost.
4. Only returns that arrive in 'new' and saleable condition are eligible for a refund, so we recommend you return your item with tracking, insurance and in its original packaging. We recommend using the USPS services.
5. Please include your original packing slip or a note with your order number and name so that the return and refund can be processed quickly. Most holdups in the returns process are due to customers sending items back with no identification, making it difficult to know who the return is from.
6. Once we approve your return, you have 21 days to get the item(s) to our store; if it arrives after 21 days, a refund may not be issued. In turn, we guarantee a refund issued within 2-3 days of the returned item(s) being delivered to our store, or proof of it arriving via tracking.
7. To initiate a return, email us via orders@touchoffinland.com or call us at (906) 226-2567, and we will send you our return address and our return procedure.
Exchanges:
If you change your mind about your purchase, your option is to return it as per our return policy. If you would like to order another size, color or variation of the returned item(s), we offer a discounted shipping fee of $5 for most items (US only). We want you to be happy with your purchase, contact us for further details.
Damaged/Faulty or Incorrectly Shipped Orders:

If you receive damaged, faulty or the incorrect items, which happens occasionally, we apologize and will take responsibility for fixing errors as fast as we can. We know it's disappointing and unfortunately, unscrupulous people sometimes try to take advantage of situations and, therefore, we do request a few small things from you to process your request and verify the issue. We find honest people usually have no problem assisting us and we thank you in advance for your cooperation. In the rare event that you do receive a damaged or faulty product or if we do ship you incorrect items, here is our policy and how we deal with these situations:
1. It is your responsibility to advise us of any issue with your order within 3 days of delivery, via email or phone. Damages reported after this time will be considered customer damage and ineligible for a replacement or refund.
2. Before we can expedite a replacement or the correct items to you, we will require you to send photos of the items you received including an image of the packaging with shipping label and the packing slip.
3. If an item has a manufacturing fault or arrives damaged, we will send a replacement once the claim is accepted. If we can not offer a replacement item, we will offer a refund for the purchase price of the item(s).
Owned and operated by the same Finnish family for three generations, we strive to give excellent service to our neighbors and community. Rest assured, if something goes awry with your order, we will work with you to make it right. 
Kind regards,
The Touch of Finland Team
Shop with confidence
1000's of Happy Customers.

 

We have been a family business operating since 1982 within the United States. During that time we have served over 200,000 satisfied customers from all over the world.
We Stock 100% of the Items on Our Site.

 

Many of our competitors simply take your order and then have the vendor or 3rd party send the items to you. We stock everything we sell, so we can be sure to give you the best service from the time you order to the time you get your package.
Satisfaction Guarantee.

 

Your order is guaranteed to arrive in perfect condition, but if for any reason you aren't completely satisfied, please

 contact us.

 We will make it right.
Fast Delivery of your Order.

 

We stock almost everything we sell, so we'll pack and ship your order directly from our warehouse with no delays. Most shipments arrive within 2-5 business days of ordering. For more information on shipping visit our shipping page.